Courses Offered
Bachelor of Physiotheraphy (BPT)-4 1/2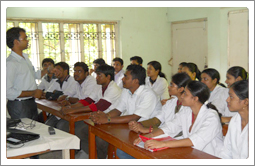 Physiotherapy is an emerging branch in Modern Medical Science gaining popularity in India with a faster rate.
According to Delhi Council for Physiotherapy, "Physiotherapy means physiotherapeutic system of medicine which includes examination, treatment, advice and instructions to any person preparatory to or for the purpose of or in connection with movement dysfunction, bodily malfunction, physical disorder, disability, healing and pain from trauma and disease, physical and mental conditions using physical agents including exercises, mobilisation, manipulation, mechanical and electrotherapy, activities and devices or diagnosis, treatment and prevention"
APPLICATION:

| | |
| --- | --- |
| | Orthopaedics & Musculoskeletal Conditions |
| | Neurology & Psychosomatic Disorders |
| | Paediatrics |
| | Paediatric Neurology |
| | Sports Medicine & Rehabilitation |
| | Cardiothoracic & Pulmonary Conditions |

| | |
| --- | --- |
| | Obstetric & Gynaecological Conditions |
| | ICU Care & Respiratory Therapy |
| | Community Based Rehabilitation (CBR) |
| | Hand Rehabilitation |
| | Geriatric Physiotherapy |
TO SUMMERIZE A PHYSIOTHERAPIST HAS A ROLE TO PLAY RIGHT FROM THE PRENATAL STAGE TO WE EXIST .

According to the WHO there is requirement of qualified physiotherapist in each 10,000 population. This is an easy calculation giving us an idea of number of physio required to promote the health care system for 120 crores Indian population. But there is a lot of brain drain from India to western and middle East countries due to the huge demand of Physiotherapy Graduates.

Hence, fresh physio graduating from recognised universities are now taking up the challenge to meet the requirements of Indian Citizen. This has become a realising scenario to promote Physiotherapy profession both in education and practice for both Central and State Government to work on it. Of course, few states like J&K, Punjab, Bihar have already started their vacancies at their Government hospitals, at DHC and PHC levels. Odisha also no where behind .We can expect lot many of Government vacancies in up coming years. Along with this, entry of a number of corporate hospitals within a couple of years to Odisha , also provide hopes of recruitment of fresh physios.

As a whole, careers are really promising for Physiotherapists Globally.
Bachelor of Prosthetics Orthotics (BPO)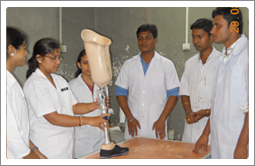 Prosthetics and Orthotics is an allied health profession with a variety of exciting employement opportunities available in MNCs, Artificial limb centre, Hospitals, District rehabilitation centres as well as in different Rehabilitative set up.
Prosthetics and orthotics is a mystery to many. Prosthetics and Orthotics is a medical and engineering based healthcare profession which deals with rehabilitation of physically handicapped individuals who suffer from limb malfunctions or abnormalities or absence or loss of limbs or other body parts. Prosthetists and Orthotists are professionals who help people suffering from neuromotor and musculoskeletal disorders such as the ones mentioned above, to return to a normal life by using their skills and advanced medical technology. In a nutshell, though the fields Prosthetics and Orthotics appear to be autonomous, these professionals usually work as part of multi-skilled teams. Their clientele ranges from small children to adults and elderly population suffering from age-related injuries and illnesses.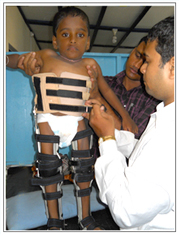 A Prosthesis, or what is commonly known as an artificial limb is an extension or replacement of a missing or damaged body part. It can be an artificial leg, an entire hand or just the palms of hands or feet etc. Those professionals who deal with prosthesis are called Prosthetists.
An Orthosis is a device which can give support to weak limbs or help to correct a deformity. Such devices include braces, splints and special footwear which assist movement and tend to lessen the amount of discomfort. Orthotists are professionals concerned with manufacture and fitting of Orthosis.
You are encouraged to become an O&P professional - perhaps the most rewarding of all the allied health professions, because your work is
making a difference...every day!